Last updated on March 11th, 2023 at 07:23 am
The Royal King barrel saddle combines the tough image of the Wild West saddles with the premium cut and quality of many modern saddles to give you a rugged, yet durable and comfortable saddle for various riding conditions. The brand is known for saddle sizes that will fit most of the horses without slipping. Also, Royal King invests in quality stitching, straps, and buckle attachments to enhance longevity. If you are looking for a quality saddle for your horse, you may want to pick any of the saddles described below in our Royal King barrel saddle reviews.
Our Favorites
Royal King Barrel Saddle Reviews
Our Recommendations:
Royal King Barrel saddles offer elegance at value prices.
Additional saddle padding may be required with some saddles for some riders.
We are impressed by the workmanship that has gone into creating the Royal King Reno Buck Stitch barrel saddle. It not only looks beautiful, but it is also made to last with subtle inclusions that make it a premium product.
Comfort
The seat is lower than most Western saddle designs with a slightly raised cantle for enhanced comfort. Additionally, the stirrup is leather padded for enhanced comfort and to prevent slipping during wet weather. The back billet is also held well in place via the D ring, has stylish punched holes, and buckles to hold the saddle in place conveniently.
Design
The Royal King Reno Buck Stitch barrel saddle features a brownish suede seat with delicate punched embroidery on the sides. Its cantle and swell have light-colored leather fabric and floral tooling design. The same color and design goes up the horn height and the actual horn. You will also find light-colored and floral back billet, hoof pick holder, and hobble strap. This creates an exciting contrast with the brown skirt and jockey. Generally, it has a minimalist design and a compact look that ensures it is lightweight without sacrificing its aesthetic appeal.
Application
It is easy to set the saddle up on the horse with a few steps. It has a long and tough latigo to connect cinches to the rigging with ease. The horn allows for easy lifting from your storage and the horse all by yourself. Unfortunately, it lacks strings and D rings that you can use to carry other accessories to your riding trip. This saddle is suitable for leisurely short rides.
Pros
Its full quarter bars can fit most of the horse sizes
The skirt is roughed up for ease of maintenance
The saddle is lightweight and compact, which makes it great for small horses
It has an aesthetically pleasing design
Cons
The seat feels quite small for large-bodied riders
It lacks D rings and strings you can use to carry additional items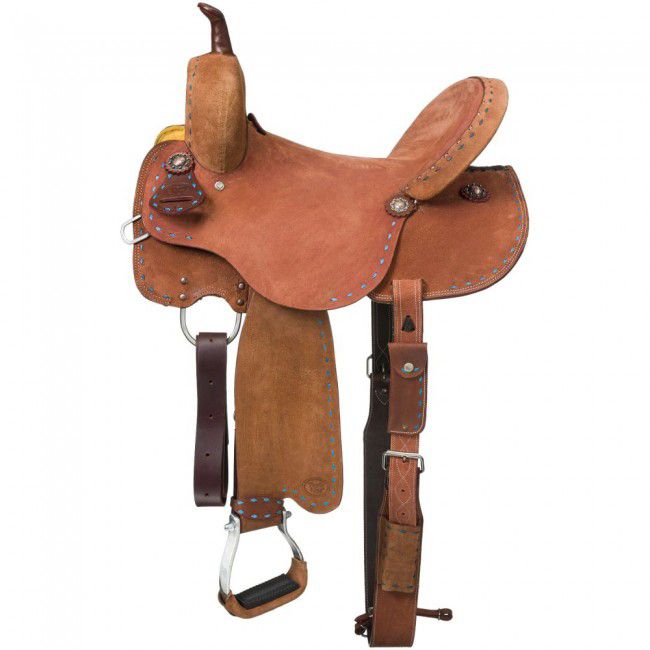 If you are looking for rugged beauty, the Royal King Medina Buckstitch Barrel Saddle would be a great choice for you. It is made of full roughout leather with turquoise buck stitching accents. Check out the following features of this premium barrel saddle.
Comfort
Despite the all-roughed leather, the saddle's seat is amazingly comfortable, although it can get a little slippery during the wet weather. Its cantle is also well-raised for your back support. Its Ralide tree also feels comfortable to your horse. The conchos and hardware are also put in place to hold the billet latigo and other parts. You have a choice of 14-inch to 16-inch saddles depending on the size of your horse.
Design
The seat on the Royal King Medina Buckstitch Barrel Saddle is toney reddish with brownish fenders. It also has angled aluminum stirrups for longevity with leather padding at the base. The padding ensures that you do not slip while riding your horse in wet weather. It also has in-skirt D rings held in place with reinforced stitching and aluminum hardware. The saddle also features full quarter bars, which makes it fit most of the horse sizes. Its horn has a leisure-style design with a slightly raised swell, which keeps you secure even if your horse gallops.
Application
You can use the saddle for your leisure and trail rides with ease. Furthermore, the aluminum stirrups have easy to change buckles should you want to replace them or get better fitting ones. Fastening the billets and latigo is a lot easier thanks to well-spaced holes in the leather straps.
Pros
The all-leather saddle is durable and easy to maintain
It comes in three sizes, allowing it to fit many horses
Cons
It may get slippery at times
It does not have extra padding on the seat (consider getting an impact gel saddle pad)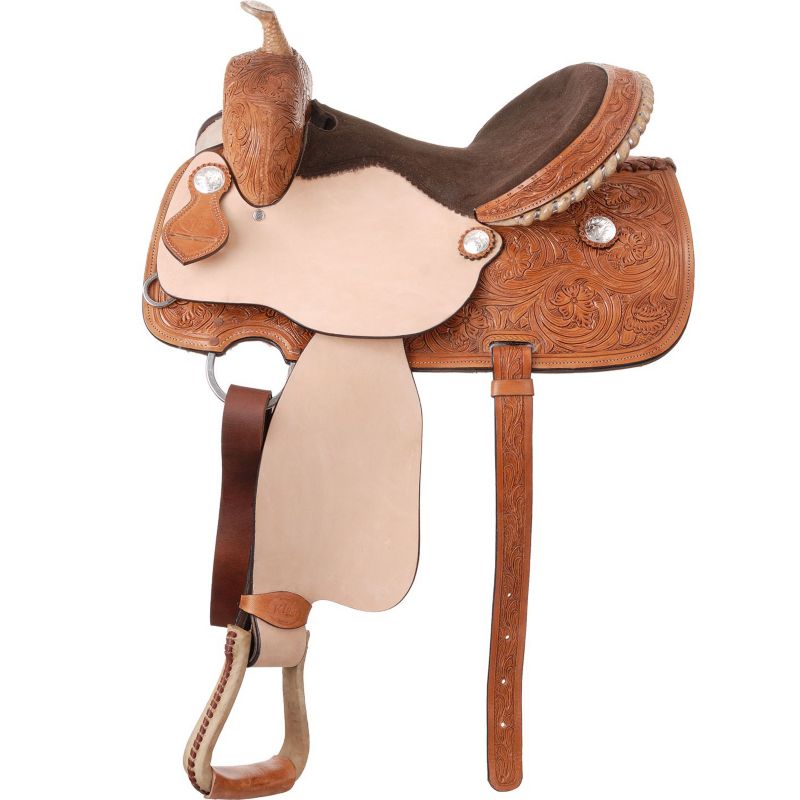 The Royal King Denison barrel saddle combines both aesthetics with premium material to give you a saddle that is both durable and looks great. A lot of meticulous tooling has gone into the skirt to create an stunning floral design.
Comfort
A combination of the comfortable seat and reinforced rawhide stirrups enables you to ride with ease. The neoprene in the skirts also makes the seat comfortable even for longer rides. Its tree is also comfortable for use by your horse.
Design
This compact saddle comes with a suede seat. The cantle has additional embroidery threading around metal support. Its tree is covered in rawhide that is light brown in color. The hide goes down to the fenders and stirrups. To add a stylish twist, the manufacturer has created stirrup buckles in Blevins style. Its latigo belt and holder are also made of leather material.
Application
The 3-inch horn makes it easy to lift your saddle before and after use. More so, the quick-change buckles make replacing your stirrups a lot easier. This saddle is excellent for people looking for aesthetically appealing saddle and do not want to keep asking help to set it on their horse.
Pros
It is a beautiful and well-designed saddle
It has more enhanced comfort than the two other types discussed above
It only weighs 22 pounds
Cons
It may get a little slippery during wet weather
Lacks strings
Conclusion
Royal King Saddles are built to last with the manufacturer giving a five-year warranty to back its claims. They are all made of quality leather parts with Denison and Rene Buck Stitch types having additional embroidery stitching. This is a perfect saddle for leisure riding and can fit most of horse sizes. They are easy to maintain, but some may lack enough hardware or strings for you to carry your stuff.
We hope you have our Royal King Barrel Saddle Review helpful. Be sure to check out all of our saddle reviews, including our other Royal King saddle reviews.